Grey Goo is the main character. He can eat anything that is smaller than itself. When Grey Goo eats something, it's supposed that that thing would be killed or destroyed, its colours inherited by the goo himself. For an example, when he eats a green candy, he turns green as the candy gets absorbed into his mass.
Biography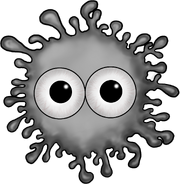 Early life
In Tasty Planet his story begins with the scientist that created him. The scientist gives him candy, allowing him to grow large enough to escape and feed on the outside world. He eats microorganisms in the laboratory, then travels outside, onto a picnic table, into an ocean, then in a park, to a city, then launches itself into the sky, then in orbit and finally into the Cosmos.
In Tasty Blue he's absent, but can be spotted on the sign in front of the research facility in the Arctic where Nano-shark is introduced.
In Tasty Planet Forever his story is rather different this time but similar to how it plays out in Distant Future. It's shown that he was frozen in a block of ice on Mars in the year 2057 and was eventually thawed out into a small water puddle on the floor of a Martian building. This time he starts out smaller than ever where he's the size of a quark, but still resides in a water droplet like in Distant Future. He begins to grow and eat the Martian colony and eventually the universe, and by eating the universe, it's shown that the universe is just a quark itself meaning that Grey Goo can eat forever and ever eating different universes, hence the name of the stage, "Forever Feast".
Outside adventures
Tasty Planet
In Tasty Planet, when he finished the final level in Laboratory, he travels Outside. He started on the ground, he eats Clumps of Dirt, Big Clumps of Dirt and grow bigger to eat some insects like Aphids, Ladybugs, Flies and more others objects like Bonsai Leaves, Seeds, Pine Needles,Twigs,...
​After a while, he saw the scientists, who are playing dominos on the Picnic Table, and Grey Goo jumped on the table and the scientist are surprised, though they thought he is just a Mouse, then they keep playing dominos and eating. On the table, there are many fruits, and there are Pennies, Dies, Blocks. When lunch time, there are Cheeses on the table, Mice and Rats that came close to the Cheese and eat them, but Grey Goo eats them first and then he eats the Cheese too. Not only Cheese in the lunch time, there is also a Grapefruit, Chocolate Milk... When he grows bigger, the scientists discovered that it is he, they grab and capture it in the tablecloth, then they run with it to the seaside and the Old Scientist throw the tablecloth with he inside it in the Ocean, to make sure he gets eaten by fishes.
In the ocean, he saw many types of fishes, dolphins sharks, which try to eat fishes smaller than them, and so does he. Then he stoped growing bigger when he was shrunk by the flick of a whale, the whale flick him into the mainland. Then he travels to the Park, where he meets Rats first.
In the Park, there are many sport objects, Golf Balls, Baseballs... Also there are many of animals like Mice, Rats, Cats, Dogs... Those animals are eaten or chased by bigger animals. Not only animals, there are humans there, Women, Men, Police Officers. When he grows bigger, he travels to the City.
First objects he is supposed to eat is Stop Signs. In the city, there are many types of Trees, also there are many of people trying to escape, some will try to stop him, like Police Officers, Police Cars, Tanks... When he grows even bigger, he eats Trains, Houses, Buildings and everyhing smaller than him. After that, at the scientists house, the scientists are watching the news channel which is talking about Grey Goo and how he  ate half of the City, then he jumps into the Sky.
In the Sky there are many types of clouds. Also, there are many types of flying objects, like Birds, Kites, Biplanes,... and other bigger objects. In the Sky, there are Fighter Jets, which are trying to stop him from eating everything. When he grows bigger, he travels out of Earth, into the Orbit.
In the Orbit, he is eating material like Meteroids, Asteroids... Not only that, there are many Astronauts in the Orbit, however in real life there aren't that many people. He is not the only one who is eating smaller objects and grows bigger, there are also Energy Entities. There are also Attack Shuttles whcih are attacking him. Before he travels to the Solar System, he need to eat the Moon first.
He travels to the Cosmos, in there, he eat the planets in Solar System, then he eats Stars, a Black Hole, Nebulas, Galaxies,... and finally the Fabric of the Universe and Time Itself. When he eats the whole Universe, he explodes and the Universe starts again.
Tasty Planet Back for Seconds
Appearances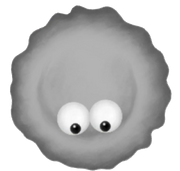 His apparance is that of a slimy grey ball with 2 adorable eyes.
In Tasty Planet, his eyes are above his head, and there is more goo radiating out. You can change his eyes and his appearances when you complete the normal mode and the casual mode. There are big eyes, small eyes, cyclops eye, wide eyes, in eyes settings, and rainbow goo in appearances settings. When you choose rainbow goo, your normal Grey Goo turns into a goo that is changing into every color. You can also choose one of the many settings at once. For example, if you choose wide eyes and small eyes, wide small eyes are the result.
In Tasty Planet Back for Seconds his eyes are in front of his head, and there is less goo radiating out, if you played local co-op with friends, the second player has one eye. He can eat other Grey Goo in the following levels: Dinogoo, Googyptian and Gooturistic. In these levels he needs to grow bigger, or else the other goo will eat him before he can eat them. Also if they grow bigger, they move faster, not same as grey goo who is controlled by players.
Quotes
"Nom...nom!"
"Hmmm..."
"Yummy!"
"Woopah!" (often misinterpreted as the Greek saying "Opa!")
"Ouch"
"Aa!"
"Oaaa" (touch and another goo Poofed)